2020 Annual Meeting Dallas, Texas
June 19-21
We will be holding our Annual Meeting in Texas on June 19-21, 2020. We will be combining our annual reunion with our cousins in Texas, just as we did back in 2008 & 2014. The annual auction is always a resounding success, so make sure you bring something to auction off!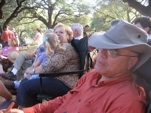 Our cousins in Texas, who are decants of Robert Lee Vick and those in the Dallas/FT. Worth area will be part of the main planning.
Our activities are, Friday check-in and evening dinner gathering, Saturday workshops on the Vick family tree (with DNA reports) and on Sunday we attended the local churches of our members. Please see all the details below.
There are a large number of hotels to select from, which will be done as we move closer to the reunion.
Agenda of the ANNUAL MEETING AND REUNION
Friday, 19 Jun
3:30-5 PM
Check-in for meeting (pay dues and register) Workshop on "Family Tree Maker" Software
5-7 PM
JVFOA Annual Dinner (Texas Vick's welcome)
7-9 PM
Speaker – Subject;
Saturday, 20 Jun
6-10 AM
Breakfast –
10-10:30 AM
JVFOA Annual Board Meeting -
10-11:30 AM
Texas & JVFOA Vick Gathering -
11:30AM-1PM
Texas & JVFOA Buffet Bar-B-Que Lunch -
1-2 PM
Bingo Game – Prizes -
2-3 PM
Auction of Vick Items -
4-5 PM
Auction ends -
5-6 PM
JVFOA Annual Meeting & Board Elections -
6-7 PM
Dinner - Carleen
7-8 PM
Speaker - DNA Research, Data Base Project, & Presentations -
Sunday, 21 Jun
Sunday Services (attend your local Church)
11:00 AM
Family Networking – Hampton Inn
If you have question then contact our Event Coordinator; Mrs. Lori Vick Millsap, Events Coordinator, 3241 Mathieson Drive NE Atlanta, GA 30305 Tel. 251.533.8639 - Lori can be contacted at the following email, lorivickm@gmail.com - Local Host is Robin T. Yaklin