Who Are We?
The Joseph Vick Family of America (JVFOA) is a non-profit association dedicated to the genealogy of Joseph Vick, who was a planter, of Lower Parish, Isle of Wight County, Virginia. His exact place of birth is unknown; he was probably born about 1640 and immigrated to Virginia in America in the mid-to-late 1660s. He died in Isle of Wight County, Virginia, around 1700. The organization maintains a database of Joseph Vick's descendants (www.jvfoa.org), sponsors annual conferences, and a blog site on Facebook (JVFOA). We are a Non-Profit Corporation with a 501(c)(7) US Internal Revenue filing code and incorporated in the State of North Carolina in the United States of America.
Recent Blog Posts
    A Father's Day trip to the Livingston Cemetery Anson County, North Carolina for the Anson Coun...
The following family history was in the papers of the late Di Ann VICK. It was written by Eli Joseph...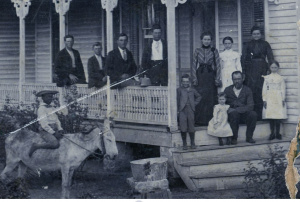 John Wesley Vick, son of Wesley F. and Elizabeth Jane Guthrie Vick, was born December 27, 1867, in L...
I attended the Dallas Genealogical Society (DGS) monthly meeting Saturday, February 4.  The speaker ...
Annual Conferences -
June 28-30, 2024 - The meetings are broadcast live and recorded on Zoom -
Vick Annual Fundraising Campaign
Anyone interested in knowing more about their Vick ancestry is invited to join our genealogy society. We have moved from an annual membership dues to and Annual Fundraising Campaign.
In our 2022 campaign we raised $40,000 to print our new book, "The Vick Genealogy": We want to thank all the Benefactors that generously donated. The Study of a Southern American Family in White and Black by John Beatty, CG®, we published a two-volume set. It totals over 1,000 pages and includes photographs. This limited first edition of 250 copies has a hard-covered saddled-stitched binding with dust covers (which has quotes from Ted Shaw, Henry Louis Gates, Jr. & Elizabeth Shown Mills). There is a bio about the author, John Beatty. This two volume set was published with the highest heirloom quality available by Walsworth Printing of Missouri. Many generations of Vick's beyond today will be able to read and enjoy this book.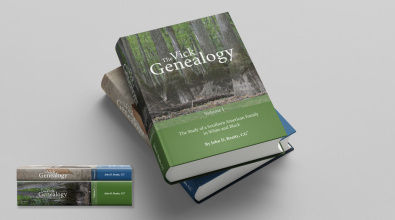 We have a different fundraising campaigns each year, but we are working on a major one for completion in 2029
We are raising funds for constructing completion for 2029 a new Memorial in Virginia for Joseph Vick in the State of Virginia.
Also under the Historical Highway Markers. The Virginia historical highway marker program documents facts, persons, events, and places prominently identified with the history of the nation, state, or region. DHR's purpose in erecting markers is to educate the public about Virginia's history, not to honor, memorialize, or commemorate persons, events, or places. Because highway markers are not honorific in nature, they do not serve the same purpose as monuments, statues, memorial plaques, or war memorials. below is an example of our objective for our Joseph Vick
With their texts of black lettering against a silver background and their distinctive shape, Virginia's state historical highway markers are hard to miss along the commonwealth's roadways. There are now more than 2,500 of them erected in Virginia to highlight people, places, or events of regional, statewide, or national significance.
In the coming years, we will start raising funds towards erecting a Monolith Memorial to our first North American Vick settler, Joseph Vick.
On 20 Dec 1673 Hodges Council made a gift of land as follows: "I Hodges Councill of the Lower do give.... to Joseph Vick of ye said Parish, 50 acres on Beaver Dam Swamp, adjacent to Robert Lawrence... and furthermore it is agreed that if the said Joseph Vicks have any other child beside this his present daughter, going by and bearing the name of Lucy, she shall after the decease of her father enjoy the land for her and her heirs, but if the aforesaid Jos. Vicks shall have any more children by this, his present wife, sonne or daughter, neverthe less the above Lucy shall enjoy ye land, but if the said Lucy shall decease without heirs, then the said land shall fall to either brother or sister, but if the said Joseph Vicks and his daughter Lucy shall both decease without heirs, then the aforesaid shall fall unto ye said Hodges Councill and his heirs again."Signed Hodges Council. Witnesses: John Brown, Rowland Buckley, & Richard Booth. This deed was recorded on 9 March 1681/2 (IOW DB1, p.480)
Future Joseph Vick Monolith Memorial (not to scale)
Genealogy and Family Research
Descendants of the Joseph Vick Family of America seem to all have a very passionate interest in common...finding their common ancestors. Within the association are wonderful resources and individuals who can help you find what you're looking for. More information.
History of the Organization
In July 1975, Sam Vick of Panola County, Mississippi, hosted a gathering of 170 descendants of Joseph Vick at the John Kyle State Park. It was the culmination of months of working to track down as many descendants as he could through his genealogical connections. After the success of this gathering. other family members sought to organize an association. Finally, a dozen years later, Mary Jo McCrary and James M. Perrin (both descendants of Newit Vick, founder of Vicksburg) organized the Vick Family Newsletter.

In 1990, Gailen Vick and O. Richard Wright had the Joseph Vick Family of America formally incorporated in the State of North Carolina. The extended family organization meets together each year at a location identified with the Vick family, at these annual meetings, members along with the community are educated in classes on family genealogy, family research and DNA testing. The JVFOA Board meets together annually and via teleconference quarterly.
There are currently over 1,000 individuals that look at our activities on
FaceBook
and this web page for information. Some of the family names in the descendants includes Barnes, Barrett, Batchelor, Brantley, Bunn, Cook, Dean, Equals, Ferguson, Gardner, Garlington, Harrelson, Hart, Joyner, Minshew, Odom, Perry, Pittman, Pope, Powell, Ricks, Storey, Strickland, Threadgill, Westray, White, Whitfield, Worrell, Yeargin and related families.