VICKSBURG, MISSISSIPPI JUNE 28-30, 2019
Every year Vick's from all over the world and members of the Joseph Vick Family of America organization get together to educate one another on DNA & Family Research and enjoy each others company. The extended family meets each year at a location identified with the Vick family; Vicksburg, Mississippi & Isle of Wright, Virginia, but we have had annual meetings in the past at the following locations; Cape Girardeau, Missouri, Paducah, Kentucky, Salado, Texas & Fort Wayne, Indiana.
We will be meeting in Vicksburg, Mississippi at the Holiday Inn Express for 2019. At these annual meetings JVFOA members and the community are educated in classes on family genealogy, family research and DNA testing. Members receive the JVFOA quarterly newsletters as their main source of sharing information.,
June 28-30, 2019 @ the Holiday Inn Express & Suites, Vicksburg, Mississippi, Evie Hilderband, Sales Manager t. 601-634-8777 ext. 501 - evie@shshotelus.com, 4330 South Forntage Road, Vicksburg, Mississippi 39180

June 28th- Friday morning -
Pre-Activity Event - Come join the Joseph Vick Family of America as we tour Mont Helena on Friday June 28, 2019, at 9:30 a.m. before we kick off our annual meeting and reunion in Vicksburg June 28-30, 2019. Mont Helena is a Colonial revival style home built atop a ceremonial Indian mound in the Mississippi Delta. In 1896, Helen Johnstone Harris and her husband, George Harris built their "retirement" house on land that Helen had inherited. As a young woman, Helen suffered great heartache after being engaged to a young man, Henry Vick, of Nitta Yuma. She was to have married him in 1859, but, Henry was killed a week before the wedding in a duel.. The cost of this tour is $15.00 per person, cash only, payable on the morning of the tour.
1-3:30 PM Workshop - Free Software for finding your ancestors; Relative Finder, Family Search & Take a Name. presenter Gailen Vick
3:30-5 PM Workshop - Next Generation of Vick History or a Volume II; By Robin & Dan Yaklin - Hilton Garden Inn Independence, 19677 East Jackson Drive, Independence - This presentation will interest the general public since the tools for developing and publishing will be highlighted; Family TreeMaker; Roots Magic database; gedcom file that will allow importing of the database into any genealogy program or website that accepts that format.
What may be of general interest is: the basis of a new volume is underway - We need content from everyone! EG: stories, especially the ones about their relatives' quilts or jams or how they farmed, etc. Copies of family bible genealogy, front pages would be so helpful. Also letters and maps. Newspaper articles. Announcements of births, deaths and marriages. We will be researching the Civil War period when photography came into its own. Already I've found references to our soldiers. Perhaps someone has a picture.
Robin bio: writer, former journalist, 30+ year genealogist, keeper of her own Stewart and Turrella trees, researcher for the Vick family and organizer of the second volume and great-granddaughter of Susan Tabitha Vick and great-great-granddaughter of Henry S Vick - Dan bio: stock trader, former Texas Instruments senior design engineer, 30+ year genealogist, keeper of the Yaklin family tree and member of the Vick family by marriage
5:30 PM Annual dinner - welcome from JVFOA President Gailen Vick,; discussion of weekend, any business at president's discretion
6:00 PM Keynote Speakers: - Morgan Gates is a life long resident of Vicksburg, with master's degrees in history and education from Mississippi College. He is retired from the Vicksburg Warren School District where he served 28 years as a teacher and administrator. Today he is a licensed guide at the Vicksburg National Military Park, and works in various capacities as a living historian, storyteller, interpreter of Vicksburg's rich history.


June 29th
Saturday morning - free time to research

7- 9 AM Breakfast
8 AM Annual Board Meeting
10 AM DNA Research, Presentation by Larry Vick ;

11 AM Genealogy Program
12 Noon Buffet lunch, speaker; David Maggio was born and raised in Vicksburg, Mississippi. Graduating in 1973 from Mississippi State University where he received his BS degree in Secondary Education. After college he took a job working for the Army Corps of Engineers, retiring in 2013 after 39 years of service. David has been a licensed tour guide in the Vicksburg National Military Park for 16 years and operates Maggio's Historic Walking tours in the City of Vicksburg. Over the years, he has and is serving on various Boards and Organizations helping to promote Vicksburg. David and his wife, Beth, have a son, Justin who along with his wife Amanda have given David and Beth two grandchildren, Roman and Harper. 1 PM DNA Research, Data Base Project & Presentations
12:30 Annual Meeting & Board Election
1 PM free time to research
4:30 PM Dinner/Silent Auction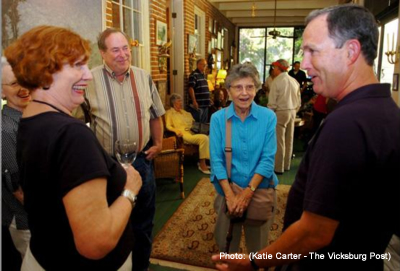 Members of the Joseph Vick Family of America Reunion catch up with one another Saturday evening at the Martha Vick House on Grove Street. They are, from left, Shirley Anne Vick of Atlanta, Victor Vick of Cincinnati, Ohio, Mary Ann Vick Graves of Decatur, Ga., and James Larry Vick of West Palm Beach, Fla
June 30th
8 AM Personnel time to attend your local church.
8 am Trip to Civil War Memorial & Vick Cemetery

Sunday morning - free time to research
Please contact Lori Vick Millsap for more information on the JVFOA Annual Meetings & Reunions;
Mrs. Lori Vick Millsap, Events Coordinator - 750 Dalrymple Rd, NE Unit M-5

Atlanta, GA 30328
Tel. 251.533.8639
Lori can be contacted at the following email, lorivickm@gmail.com
Family Gathering
It is exciting to gather each year at another location of historical importance for the Joseph Vick Family of America.