The Vick Genealogy
Copies of the books are now being distributed to libraries around the country.
See WorldCat for a list of Public Libraries that have the books
See photos of Library Presentations


Anyone interested in knowing more about their Vick ancestry is invited to join our genealogy society.
2022 campaign raised $40,000 to print The Vick Genealogy: The Study of a Southern American Family in White and Black by John Beatty, CG®, we published a two-volume set. It totals over 1,000 pages and includes photographs. The limited first edition of 250 copies has a hard-covered saddled-stitched binding with dust covers, which has quotes from Ted Shad, Henry Louis Gates, Jr & Shown. There is some information about the author. This book was published with the highest heirloom quality available by Walsworth Printing of Missouri. Many generations of Vick's beyond today will be able to read and enjoy this book.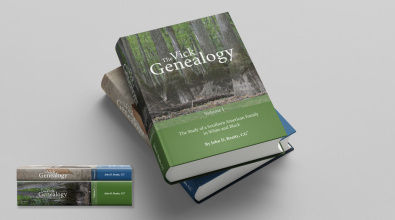 John is on the genealogy staff of the Allen County Public Library, the largest collection of genealogical secondary sources (books and publications) in the United States. Di Ann has a doctorate in American Studies and is a genealogist. The book was published by Genus Publishing, which is owned by James Davis, a well-known publisher and also a Vick descendant. All profits of the sale of the book go to the family organization. We will have an index of the family names, a description of the book, information on the family, testimonials, and images, background on the editors, etc. in the near future.