The Vick Genealogy
Copies of the books are now being distributed to libraries around the country.
See WorldCat for a list of Public Libraries that have the books
See photos of Library Presentations


Anyone interested in knowing more about their Vick ancestry is invited to join the Joseph Vick Family of America.
In 2022, a campaign raised $40,000 to print The Vick Genealogy: The Study of a Southern American Family in White and Black, a two-volume set by John Beatty, CG®. The book totals over 1,000 pages and includes many historical pictures and documents. The limited first edition of 300 copies has a hard-covered saddled-stitched binding with dust covers, and the cover features quotes from Ted Shaw and Henry Louis Gates, Jr. The book was published with the highest heirloom quality available by Walsworth Printing of Missouri. It is sure to be a valuable resource for many generations of Vicks to come. All profits from the sale of the books go to the Joseph Vick Family of America.
John Beatty is a genealogist on the staff of the Allen County Public Library, the largest collection of genealogical secondary sources in the United States.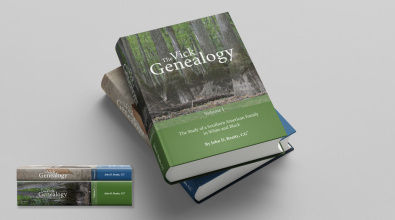 Here are some additional details about the book:
It traces the Vick family back to Joseph Vick, a seventeenth-century settler in Isle of Wight County, Virginia.
It includes information on both white and black descendants of the Vick family.
It uses DNA evidence to verify some of the family's history.
It is the first genealogy of an antebellum southern family to include this expanded family of white and black members.
The Vick Genealogy is a valuable resource for anyone interested in the history of the Vick family. It is a well-researched and comprehensive work that is sure to be a valuable addition to any library. It is available for purchase at Heritage Books.