John Edward Vick's Bio
JOHN EDWARD VICK was born in central Texas and is a seventh generation Texan. He pasted away in May 26th, 2012.
His early life was spent in a farming community in Hamilton County, Texas. After graduation from Evant High School, he attended Texas A&M University, and graduated in the spring of 1957. He left there with a BS and MS in Electrical Engineering, and moved to Albuquerque, NM, and started his career with Sandia Corporation. After about 2-1/2 years there, he returned to Texas (Fort Worth) and worked in the design, development, and production of state-of-the-art military aircraft. Most of his career was with General Dynamics Corporation, which became Lockheed Aeronautical Systems. He completed his 40-year career as the Vice President of Engineering.

He became interested in genealogy after retirement.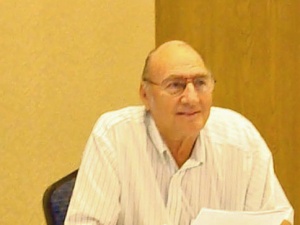 Memorial Services where held for John on 30 May, 2012, Wednesday morning at 10 am at their church which is Ridglea United Methodist Church, Fort Worth, TX.
John's wife Alta said she knew he was in a better place now as he hated every minutes of hist last 3 months being in the facility undergoing treatment with no good prognosis available. But John was always positive when he talked to others and he was his wonderful caring self to the end. He enjoyed talking about the JVFOA and hoped we would enjoy the reunion in 2012. John's children, John Jr and Gayla Stone and grandchildren loved their father and grandfather so much.
John's burial was at Shive Cemetery, Shive, TX, which is about 10 miles from Hamilton, Texas, where his brother, parents, uncles and grand parents were also buried. It is about 1-1/2 hour drive from Fort Worth.