Joseph Jurlina
September 19, 1924 - December 17, 2014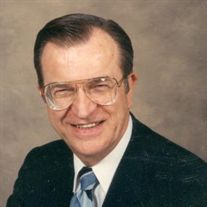 Joseph Jurlina passed away peacefully on December 17, 2014 while being comforted by
Billie, his loving wife of 69 years and both his children, Carol Ann Krumm and Michael
Jurlina. Joe was born September 19, 1924 in Cleveland, Ohio where he graduated from
East Technical High School before joining the U.S. Army. The Army led him to Texas
where he met and married Billie John Grable in 1945. After service to his country, they
moved to Austin where he earned a degree in Electrical Engineering from the University of
Texas. This led to a 35 year career with Texas Power & Light Co. Joe enjoyed technology
and photography throughout his life and spent countless hours during retirement
researching family genealogy. He wrote a book titled "City Boy", following his wife's book
titled "Country Girl". He also loved music and ballroom dance. Joe would say, "it's not
music if you can't dance to it". Joe joins his parents and two brothers who predeceased
him. He is survived by his wife Billie, their two children, Carol Ann Krumm (Bill) and
Michael Jurlina (Pam), four grandchildren: Jason Krumm, Katherine Clark (Ryan), Jacob
Jurlina, and Sabrina Jurlina, and four great-grandchildren: Hope, Anastasia, Josiah, &
Joshua Clark, as well as his brother, Bob Jurlina, and sister, Mary Jane Elam, both of
Cleveland, OH, along with many nieces and nephews. The last four years, Joe and Billie
have resided at Highland Springs Retirement Community in Dallas, TX where they have
enjoyed making new friends and sharing social activities. It was there in the continuum of
care that Joe & Billie, along with the family, were kindly supported and cared for in his last
illness.
The visitation for Joe was held from 6:00 to 8:00 PM on Friday, December 19, 2014 at Restland
Funeral Home.
The funeral services for Joe were held at 10:00 AM on Saturday, December 20, 2014 at St.
Luke's Episcopal Church 5923 Royal Lane, Dallas, TX 75230.
The interment of Joe will be at 11:15AM on Tuesday, December 23, 2014 at DFW
National Cemetery.
Funeral arrangements have been entrusted to Restland Funeral Home and Memorial
Park, 13005 Greenville Avenue, Dallas, TX 75238 at Restland Road.
In lieu of flowers, memorials may be made to St. Luke's Episcopal Church.
Joseph Jurlina Funeral Service Dec 20 2014.jpg
July 2009 - Mr. & Mrs. Joseph & Billie Jurlina; Your commitment to JVFOA and the long hours required for publishing and mailing the VICK Newsletters from 1993 until 2000 will never be forgotten. Billie, your support as Secretary, and Joe, your leadership as President for years, will always be remembered. This award represents the Directors and members admiration and appreciation for the effort you have contributed to Joseph Vick Family of America